Are you ready for holiday parties and welcoming your loved ones to your home? Decorate your front door with some festive embellishments to offer a warm welcome. Even the simplest decorations can go a long way and will only take a few moments to hang!  Here are a few ideas to inspire your holiday door and front porch décor!
Recycle a Wreath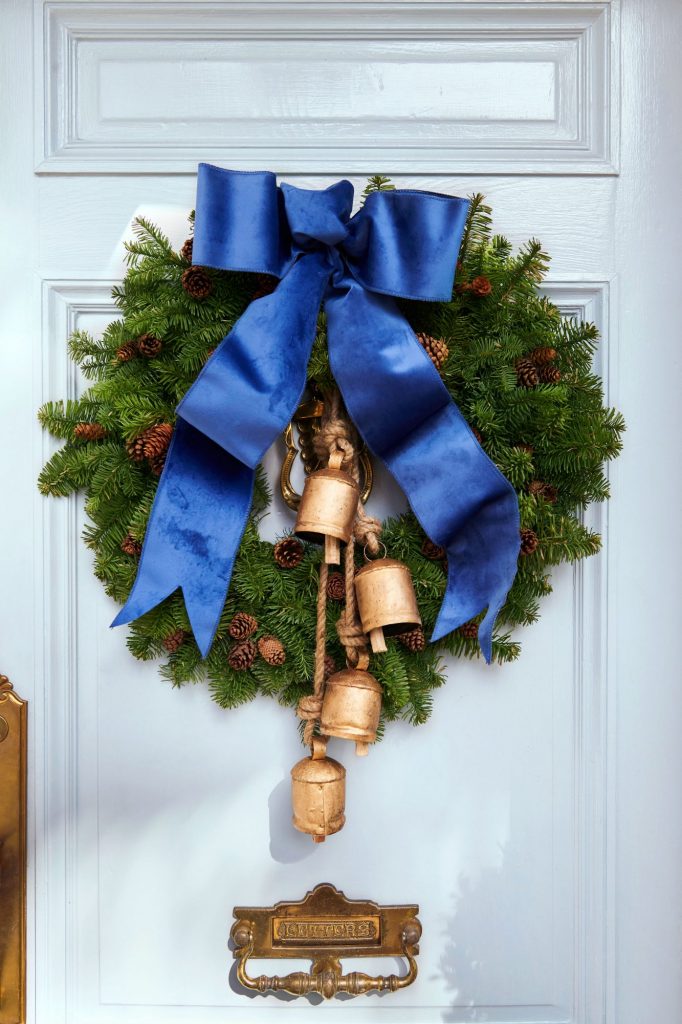 https://imagesvc.meredithcorp.io/v3/mm/image?url=https%3A%2F%2Fstatic.onecms.io%2Fwp-content%2Fuploads%2Fsites%2F24%2F2020%2F11%2F05%2F2640101_Chris_-Outside-003-F-2000.jpg
Repurpose old Christmas decorations for your front porch. Old ornaments, strips of ribbon, pine cones, and more, can be fastened to a wreath and hung on your front door. Reduce, reuse, recycle, and be merry while you do it! We do not recommend over-the-door wreath hangers as they can throw doors out of alignment.
Swap Out Your Doormat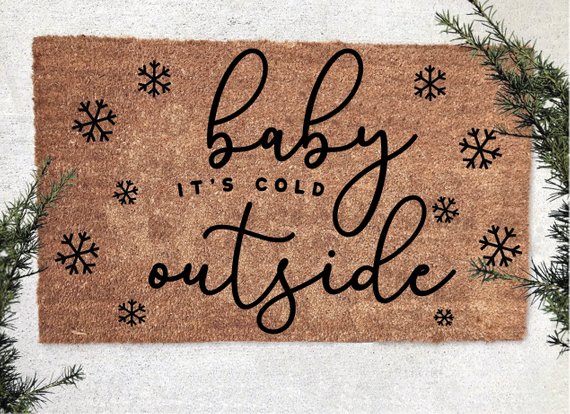 https://candieanderson.com/images/2018/11/Baby-its-cold-outside-doormat-Cotton-Mill-Shop-holiday-doormats-snowflakes-christmas-song.jpg
Replacing your doormat with a seasonal one is another fun way to decorate your front doorstep. Choose a wintery message or a cute Christmas icon to get into the holiday spirit!
String or Garland Lighting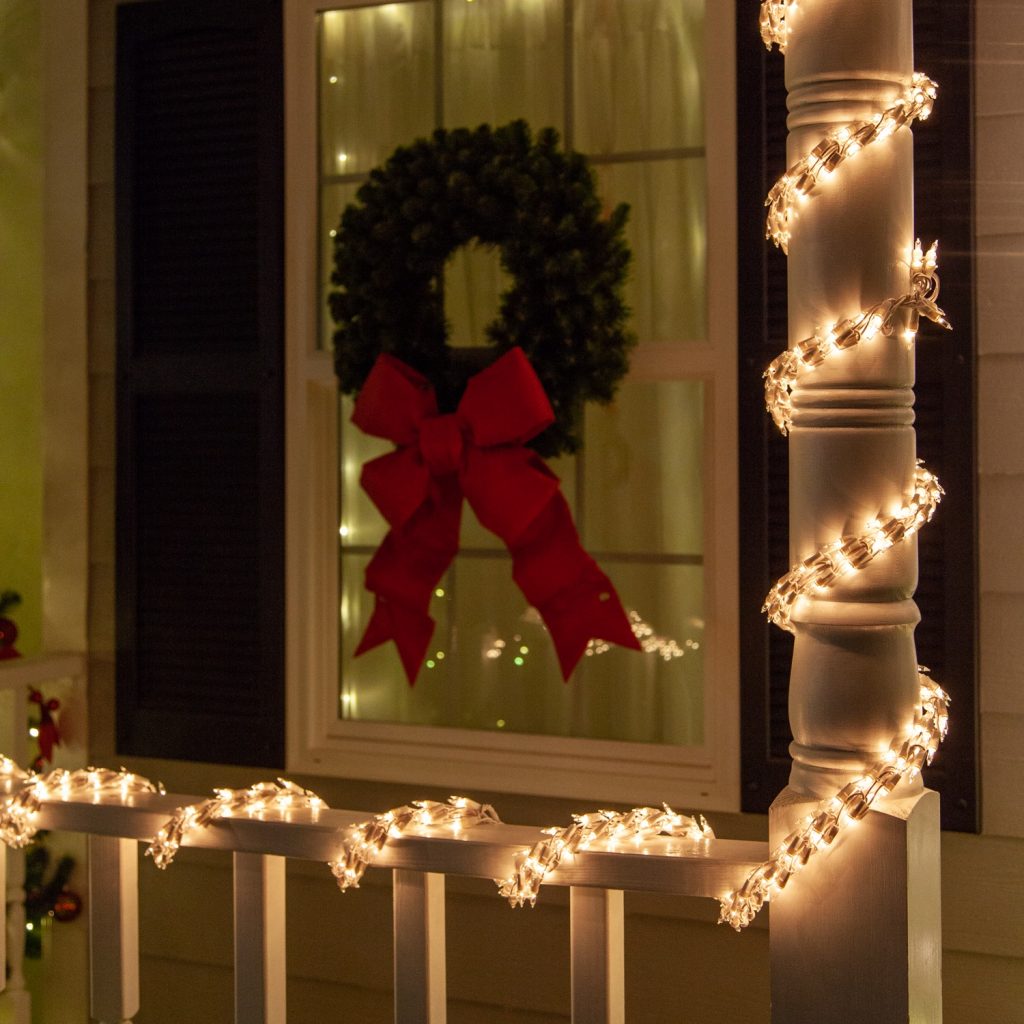 https://cdn.christmaslightsetc.com/images/CategoryDetail/69388/garland-lights-christmas-porch-decorations-8739.jpg
Add joy by lighting up your entryway with string or garland lights. Frame the door, wrap columns and railings, or even the walkway leading up to your door. Try finding energy efficient lighting options so your energy bill doesn't skyrocket and to reduce your carbon footprint.
Jingle Bells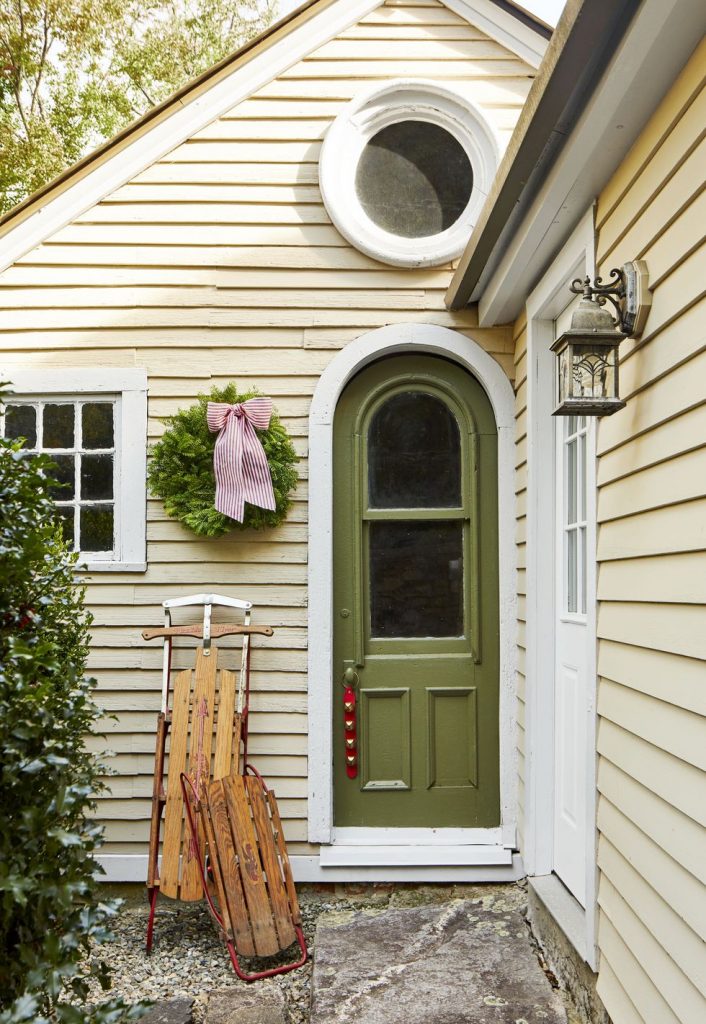 https://hips.hearstapps.com/hmg-prod.s3.amazonaws.com/images/christmas-door-decorations-1604369742.jpg?crop=1.00xw:0.967xh;0,0&resize=980:*
Greet your guests with a holiday jingle by adding a strand of Christmas bells around your door handle.
Natural Greenery
https://www.modern-glam.com/wp-content/uploads/2019/10/scandinavian-christmas-porch-decor1-3-of-13.jpg
Keep things simple with greenery, whether man-made or fresh. Drape it around your door frame, along the banisters, and add a small tree to the stoop. It's festive throughout the winter season. Elevate it with some ornaments, bows, or with white fairy lights for nighttime.