We'd like to introduce you to The Brookstone. This floorplan is one of our most popular customizable home plans in eastern North Carolina. Families enjoy the flexibility, space and amenities it offers. Let's take a little tour of its features and amenities.
The Brookstone is a spacious, customizable home featuring four bedrooms and three and a half bathrooms and lots of light. It's got over 2800 square feet to explore! Let's start from the front porch entering the first floor.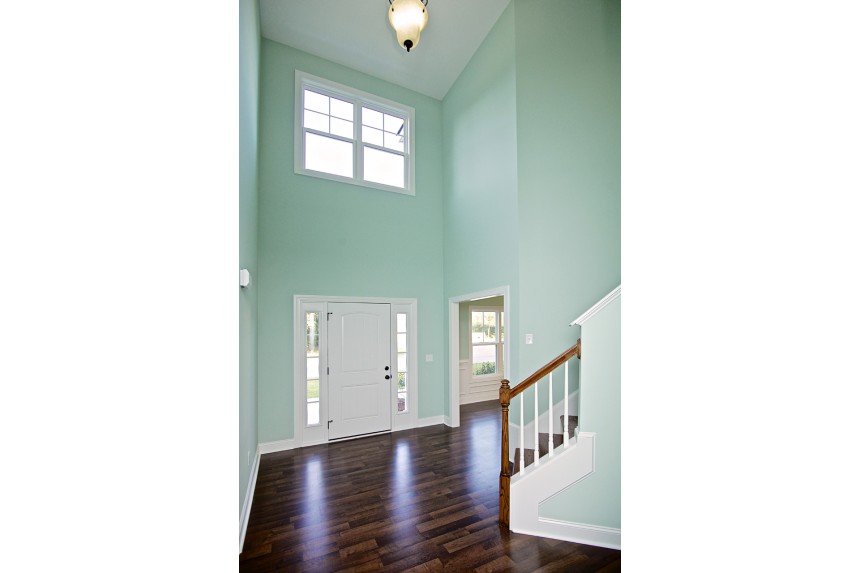 The foyer is open and full of light, reaching all the way to the second floor. It will welcome friends into your home in the warmest way. Enter a wide living space that's inviting and can easily extend into an optional back porch. A formal dining room is at the front of the house, perfect for entertaining friends and family.
Moving from the living room, you enter a kitchen that's open and features a cozy breakfast nook surrounded by windows. It's easy to picture bright mornings sipping a cup of coffee with the family in this space.
The first floor is completed by an "in-law suite" or guest suite, equipped with a full bath, a space that could be used as an office or den, and a half bath.
On the second floor, you'll find two bedrooms and a generous master suite. The master suite includes a large master bath with a garden tub and an extra-large closet. A full bath and your laundry room are also on the second floor.
This floor plan comes with a two-car garage, but you have the option to expand it to a three car garage if that will suit your family's needs. There are options to customize the entry from the garage with a built-in mudroom.
The Brookstone is the perfectly customizable home. There are so many ways to make it your own. Explore it and see it has plenty of space for your whole family.